An expression once popularly applied to the British Empire and gradually dimming in recent decades, had a ray of light that shone throughout the days of London Book Fair, with much of its glow focused on the large and prominent Russian Pavilion, with Russia serving as the 2011 Guest of Honor.
A tall mast with an image of Gagarin flying overhead and a huge flat television screen with constantly changing images of Russian writers, cities, publications, and books, the football-size exhibition hall known as Earl's Court filled its belly with more than 50 leading Russian authors, who joined Russian literary experts to bring Russian literature to the thousands of visitors who walked through the Russian Pavilions book exhibitions and displays.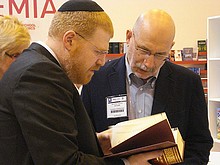 Journalists snapped photos and television cameras recorded the opening event as if it were a preparation to the upcoming Royal wedding, one that the English, or at least some, seem to be waiting for as if it were the coronation of a king that could bring the Empire back to its former glory.
Well-known Russian literary figures presented to standing-room-only audiences and it seemed that more Russian was spoken at Earls Court than the language of the Queen. Celebrated Russian writer Boris Akunin served as the guest of honor at the opening ceremony and was joined by British officials who tried, in a very funny but very British manner, to emphasize their love for both classical as well as contemporary Russian literature and authors.
In between the many television interviews, Akunin found time to visit the stand of Knizhniki Publishers, peruse the many Russian-language books displayed on Jewish themes, noting that he's read some of the books in the series. As he took a copy of The Booknik Reader and the Knizhniki catalogue he was overheard saying, "you should continue to publish and we will continue to read and think about having the books available online as this is the way that I read today…"
So the Russian literary invasion brought London at least one more chance of basking in the sun, quite literally, as the sun was out and dancing in the English sky, with none of that typically expected London rain. Well, almost…