By an official order signed on March 5, 2011 by Professor Nikolay M. Kropachyev, the Rector of St. Petersburg State University, a Department for Jewish Culture has been established at the oldest and one of the most prestigious universities in Russia. The Department is the successor of the Center for Biblical and Jewish Studies that was established at the University in 2000 under a formal educational cooperation agreement between the St. Petersburg State University and the Hebrew University in Jerusalem.
The Department is aimed at training highly qualified specialists in Jewish history, culture, religion, philosophy and other areas of academic Jewish study. The new status will encourage the development and revival of academic Jewish studies in a city that is home to one of the world's largest collections of Jewish manuscripts and archival materials.
According to Professor Igor Tantlevskij, the founder and director of the Center and Professor at the St. Petersburg State University, a leading specialist in the field of Jewish history of the Second Temple period and the Dead Sea scrolls, "it is historically significant that this Department, only the second such Department in all of Russia, was established at a University in St. Petersburg, a city in which academic Judaica began to see serious research in the 19th century as well as where many Jewish cultural and educational institutions existed in pre-Communist times. The University, under the leadership of Professor Kropachyev, has access to rare Jewish manuscripts and materials, which will now be studied by the Department students. As part of the expansion of Jewish life in the former Soviet Union, the Department's creation will play a key role both in academic circles as well as in the development of Jewish study and life."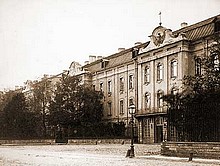 Support for the Department, which will also see select students spending semesters in Israel and other universities, student exchanges, and a growing number of faculty, will come from the University as well as key donors, which include The Chais Center at the Hebrew University; the Russian Jewish Congress; the Rothschild Foundation Europe, and the Dutch Humanitarian Fund. In 2009, the Genesis Foundation began supporting the Center and the AVI CHAI Foundation, which has provided funding to the Center since 2006, played a key role in the Department's establishment and will continue to provide support toward the strengthening and enhancement of academic Jewish study with a special focus on the possibilities that the new Department offers.
According to David Rozenson, the executive director of the AVI CHAI Foundation and a St. Petersburg native: "we are extremely grateful to Professor Kropachyev for his wisdom and commitment to establishing the Department for Jewish Culture as part of his overall efforts to significantly expand St. Petersburg State University as a world class academic institution. This has been a dream for many years and I have no doubt that students generations from now will benefit from the Department and the new possibilities that this historic decision offers both for St. Petersburg State University and the developing field of academic Jewish study in Russia and beyond."