In the past weeks, Booknik celebrated his birthday in the pouring rain, discussed difficulties of translation, painted graffiti, asked the price of success, and invented the toilet brush. Meanwhile, Booknik Jr. spoke "smart" with Meir Shalev, and counted sheep.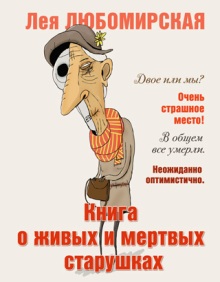 By the Means Unknown to Science
The Book on Old Women, Alive and Dead
, by Leya Lyubomirskaya
The poetic nature of Ms. Lyubomirskaya's language does not reveal itself outright. We start seeing it only somewhere deep in the book; however, readers do not suffer any losses from this. On the contrary, we have a reason to look closer at those wonderful stories. This is why Booknik's literary critic
Irina Golovinskaya
has to wear glasses.
…and many other close readings in the Books & Reviews section.

Aminadav Dykman: The Problem with Hebrew Is That It Does Not Have Style
Aminadav Dykman (b. 1958), philologist and translator, professor of Hebrew University, received two prestigious prizes this year, the Shaul Tchernichovsky Award for his contribution into translating world poetry into Hebrew, for Dykman translated from eleven languages, including ancient ones, and the Head of the Government Award for his contribution into the development of Hebrew. Booknik contributor Zoya Kopelman, herself a "somewhat lesser," as she puts it, philologist and translator, is his friend and colleague. For the sake of Booknik readers, and their own pleasure, the friends and colleagues spoke about difficulties of translation, linguistic purism, and translator's mission.
…and many other conscientious discussions in the Articles & Interviews section.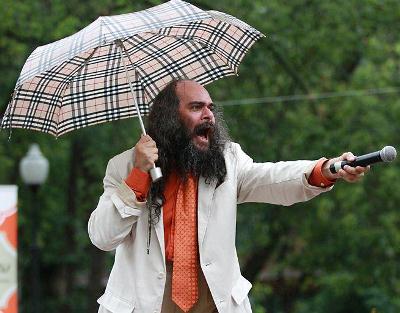 Booknik Is Six!
On July 15, in the Gorky Park, Booknik celebrated his birthday. He had lots of guests and tons of presents. Even Zeus the Thunderer made his special appearance, and it was the highlight of the day. See our photo feature, and get ready to Booknik's next birthday party! It is coming already!
The City of Free Painters
Everyone knows that graffiti are not only an act of vandalism of rowdies' entertainment. They are also a form of art that had existed in Ancient Greece, Roman Empire, Ancient Orient, and in Pompeii. They also love this old tradition in Tel Aviv. It is habitual to take snapshots of newlyweds on the backdrop of local walls adorned with graffiti. Wall painting renders a special charm to this white city. Museum tickets are getting more expensive but the street art is widely available, including you, our dear readers. You may thank for this Booknik's Tel Aviv reporter Alexandra Tikhonova.
…and many other available thrills in the Events & Reports section.

The Price of Success
A while ago, Booknik's learned Talmud scholar Reuven Kipervasser was invited to speak at a seminar for future Jewish community leaders. The topic was fundraising. The seminar organizers were piously sure that great sages of the past could never miss this vital topic of success and leadership.
Wait For Me, Steam Engine. Facts on the Jezreel Valley Railroad
Some time ago, Booknik's Israeli reporter extraordinary Elisha Zinde made up his mind to go to Kfar Yehoshua. However, he found out that trains do not run there. It set him on collecting facts on the rise and fall of the Jezreel Valley Railroad.
…and many other railway realities in the Columns & Columns section.

White Nights
The official period of white nights in St. Petersburg is from June 11 through July 10, yet in fact, it is a little bit longer. Booknik could not miss this natural and cultural phenomenon. Our new quiz is on white nights.
…and many other nocturnal entertainments in the Contests & Quizzes section.

Perpetuum Schmobile 31: Dorothy Rogers and the Toilet Brush
A society lioness invented the toilet brush! This combination had been unheard of in prim Europe, yet pragmatic America took it in stride. The socialite, and star of the 1930s New York beau monde Dorothy Rogers though that if an invention was useful, there was nothing to be ashamed of no matter what dirty work it did. A-and, if one could make money on it, even better. There was no shame in publicly defending one's patent rights to it.
The New York Crossroads, Conversation No. 9
What is common between Russia and Israel? Both of them are affluent countries with many multimillionaire residents. Nevertheless, the institution of charity is not developed there. In Russia, the tradition of patronage and sponsorship broke up after 1917, and it has not yet restored. But what about Israel? Why are local oligarchs not in a hurry to aid their needy compatriots?
…and many other disquieting discussions in the Video Blog section.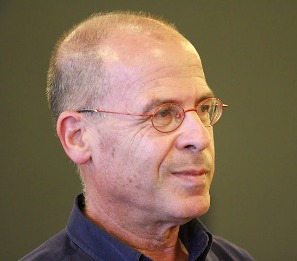 Meir Shalev on Herring, Lolita, and Pain Metaphors
Booknik Junior's favorite author Meir Shalev visited Russia again this summer. He speaks about non-productive Jews, an entomological award, and what books one should give children to read.
On Little Sheep, Chocolate, and Life
The Sixteen Lamb, by Yehonatan Geffen
In his book, Yehonatan Geffen wrote about stuff that you couldn't always share with your parents. He seemed to say to his very young readers that they should not be shy of their inner worlds. I am like you, he said. I walk the streets, and I think, why does this man have such long hair? And I am happy that there is a smell of chocolate in Ramat Gan because there is a chocolate factory there. It is so grand to stand there, and smell the chocolate all day long, for free!
…and many other free thrills at Booknik Jr., also known as Family Booknik, our own web site for kids and their parents.

I'm all staying-in-y. Booknik and Family Booknik are supported by the AVI CHAI Foundation.