Last week, Booknik thought about opening a kosher restaurant or a book store, drowned in flowers, hung out banners, asked the price of love, overcame insurmountable obstacles, and made eschatological projections yet he looked in the future with optimism. Meanwhile, Booknik Jr. frightened a train, and attended another Jewish holiday.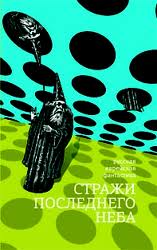 Places of Power. Ideal Bookstores
Booknik continues reviewing the best bookstores in the world. If you find yourselves in St. Petersburg, San Francisco, or India, you will know now what to fill the hours free from tours, with pleasure and benefit.
He Whom God Helps
Guardians of the Last Sky. Russian Jewish Science Fiction
Guardians of the Last Sky is the SF anthology of short stories by Russian authors that serves as a sequel to the American collection titled The Dybbuk of Mazel Tov IV. Among the fourteen authors, there are Boris Stern, Pavel Amnuel, Maria Galina, Holm van Zaychik, and the anthology editor Daniel Kluger. All of them try to imagine the if-world. What could happen if Russia had been lost somewhere in history, and they tried later to find it like Atlantis? What could happen if the Messiah came to the place, they did not need Him anymore? What if Booknik's literary critic Anna Andreyeva worked for our competitors? Oh no, not this!
…and many other competitive conjunctions in the Books & Reviews section.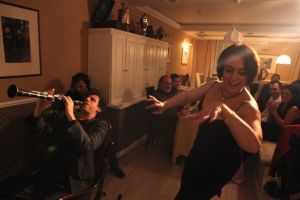 The Restaurant You Do Not Have to Dine In
The kosher business is the one that is, basically, a mitzvah that turns a pocket into a Bermuda Triangle. Only the person who already owns a non-kosher place (or, better, several such places) can afford to establish a kosher one. However, this does not happen too often. Booknik's reporter
Mila Dubrovina
decided to find out a secret of popularity of the Jewish (kosher) cuisine in Moscow.
Haifa in Bloom
Booknik's Israeli reporter Ariel Bulstein attended the international flower exhibition in Haifa. Now, he is sorry not to have been born a gardener.
Happy Independence!
David Wolffsohn created the flag of the Zionist movement that in 1948 became the flag of the new Jewish state, when he prepared for the first Zionist Congress in 1897. He did not exactly create it, he only took a white talith with blue stripes, and added a blue Magen David to it. Booknik's ubiquitous reporter Ariel Bulstein has made a photo feature about the Israeli Independence Day.
…and many celebrity celebrations in the Events & Reports section.

The Price of Love
The title of this column reminds of silent movies' titles this time, or popular novels on the 19th century. It makes one expect a story that would be dramatic, full of passions and disillusionments, yet the one with the happy ending. Nevertheless, we are talking here about a short and didactic Talmud story. It tells about very strong feelings indeed. Booknik's Talmud scholar Reuven Kipervasser, however, does not think one might hope for a successful conclusion.
Something Green. The Tribeca Festival
Booknik's staff film critic Ivan Pervertov has shaken sakura petals off his shoulders, and he tells about the film festival that has recently closed in New York. The list of finalists can be accessed here.
Five Stories about Insurmountable Obstacles from Booknik's prominent contributor Linor Goralik
Let us say, an author G. was told about diagrams illustrating teenagers' suicides, published in The Times. "Are they beautiful?" the author asked with envy in his voice.
…and many other obnoxious obstacles in the Columns & Columns section.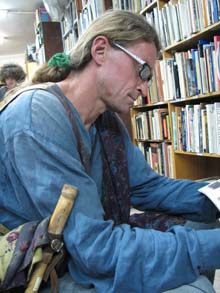 The People of the Paper Book
The book trade seems to have the same future in store the art of theater had with the advent of the cinema, Booknik's contributor
Natalia Belenkaya
projects, being an amateur futurologist. On the first date, a romantically inclined boy would take the girl to a bookstore.
…and many other romantic destinations in the Stories & Essays section.

Celebrities in Israel
Hundreds of thousands visit Israel every year, including celebrities. We have decided to cover some of them in our quiz on the 64th anniversary of the Israeli Independence.
…and many other celery celebrities in the Contests & Quizzes section.

Hebrarium, the Lexicon of Jewish Whatnots, E4
What symbols could be considered Jewish? Who was Ezra? When will the dead arise? See the eschatological projection from Booknik's video wizard Kirill Chichayev.
Psoy Korolenko: Yak of Jews
Psoy Korolenko, accompanied by the Yiddish Fest Consolidated Cappella, performs the song Yak of Jews. It is not only a merry song, it is also very useful for you will know now the meaning of all Jewish holidays in under five minutes. A-and, Psoy has recently celebrated his birthday. Congratulations!
…and many other useful musics in the Video Blog section.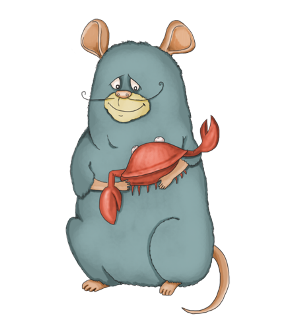 The Scroll Holiday
Jews have many different holidays. Some of them are calendar, like the New Year, Pesach, or Chanukah. There are family occasions, like a wedding or a bar mitzvah. Yet some of the celebrations are communal, and they cover various important events, like the construction of a new synagogue, conclusion of Talmud studies, or finishing a scroll of Torah.
Are You Afraid or Not? The Prose of Kirill Krasnik
In his Wonder-Childhood column, the children's poet Mikhail Yasnov presents the short stories by Kirill Krasnik, all filled with kindness. This is the most precious quality of any author who writes for kids. Apart from this, Kirill has his own key to his magic tales. He infuses them with flights of fancy. Sometimes, there seems to be no logic at all in his plots, and everything seems to develop on a whim of the storyteller. So, if you want to look at his stories one or any other way, feel free. We shall see what happens then.
…and many other whimsical wheels at Booknik Jr., also known as Family Booknik, our own web site for kids and their parents.

What would Sunnydale High do without you around to incite mayhem, chaos, and disorder? Booknik and Family Booknik are supported by the AVI CHAI Foundation.