In the past weeks, Booknik counted octopus's hands, discussed the necessity of a revolution, lit up with delight at the light festival, comprehended mysteries of Kabbalah, and the logic of Talmud, and was hospitable in Moscow and Tel Aviv. Meanwhile, Booknik Jr. became a soccer fan, and planned his winter vacation.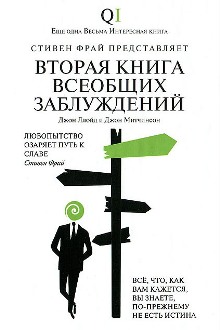 Important Books of June: Memoirs and Diaries
Our book reviewer
Dina Suvorova
believes that in June, nothing is more important than "Four Friends at the Backdrop of the Century," by Vera Prokhorova, "The Diary," by Witold Gombrowicz, "The Correspondence of the Quarter Century," by Yefim Etkind, and "A Dragon Garnished, A Botcher Achiever, and Other Stories About Mama's Boy," by Mikhail Chereysky.
Octopus's Hands, and Husky's Liver
The Second Book of General Ignorance, by John Lloyd and John Mitchinson
Curiosity killed the cat, as the popular adage says. Curiosity lights the road to glory, Stephen Fry believes. Whatever statement seems closer to home to you, it will influence your decision on reading this book or not. Yet even if you are positive that you know the truth, in reality it all could turn out quite the opposite. Errare humanum est, and humans err frequently, and with gusto. Booknik's inquisitive reviewer Ivan Pervertov learned many a curious thing from this book, and now he could share some valuable (and not especially this) information with our dear readers.
…and many other curious cures in the Books & Reviews section.

Daniel Boyarin: We Won't Survive Without a Revolution
On the Eshkolot Project's invitation, the University of California, Berkeley, Professor Daniel Boyarin came to Russia. He is a world-renown Talmud scholar, the LGBT community rights proponent, and very much anti-Zionist. Booknik reporters Lyudmila Zhukova and Semyon Parizhsky asked him about Judaism perspectives, the necessity of a revolution in a separate country, and the "restitution" of Christian texts.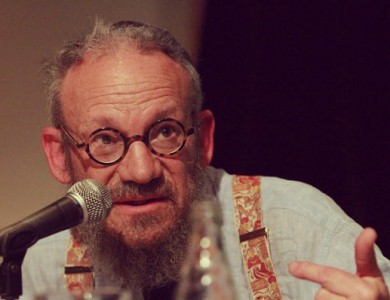 …and many other restful restructurings in the
Articles & Interviews
section.
Light and Delight Everywhere
Booknik's photojournalist Gali-Dana Singer illuminated the traditional Light Festival in Jerusalem with her presence. Now you could see her luminiferous report.
…and many other light-bearing light bulbs in the Events & Reports section.

The Mystery of The Tree: A Man and a Woman. The Book of Zohar Images
We are happy to present a new column to you, that will be called Candid Kabbalah. The columnist, Menahem Yaglom, promises a captivating yet safe trip into the world of Jewish mysticism. We shall start discovering the secrets of Kabbalah with the Book of Zohar. The principal, and, possibly, the only theme of Zohar and suchlike literature id the Mystery, that all-encompassing point of singularity where the Sky, the Earth, and the Human converge, and micro- and macrocosms are not only similar but indistinguishable from each other. It is the mystery of unity, love convergence, and the highest erotic experience infused with the taste of death. Without it, one cannot appreciate life.
Humans, Birds, and One Unusual Man called Elisha
Along with Talmud wise men, Booknik's staff Talmud scholar Reuven Kipervasser discusses the crime, the punishment, and the theodicy. A man should act rightly under the silent skies, without concentrating on the thought of retribution for his merits of misdeeds, if possible. The fulfillment of principal hopes is entrusted to the future.
…and much other Talmud talking in the Columns & Columns section.

Uninvited Guests of Tel Aviv
Practically, everyone agrees that the refugees from Sudan and Eritrea present a problem, and many people claim they know the solution to it. Booknik will not attempt to undermine any governments, and nevertheless, it suggests we should look at this problem from within, through the eyes of the African studies scholar and Russian-born Israeli Olga Elshansky.
…and many other African freedoms in the Stories & Essays section.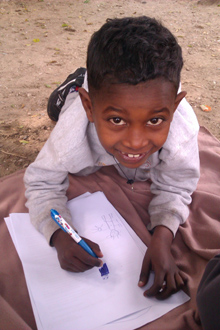 An African Quiz
In Israel, they have been actively discussing the problem of black Africans who had entered the country by legal and not so legal means. Booknik could not stay away from this, so we have decided to focus our new quiz on black people, not only African at that.
…and many other black balloons in the Contests & Quizzes section.

Yiddish on the Border
What are "champagne glasses," "electric kettle," and "cotton thread" in Yiddish? Rocha Sandler of Ludz tells about the life before the war, and what remains of it now.
Newcomers 2: Semyon Parizhsky
Our faithful contributor Semyon Parizhsky is a philologist, Hebrew scholar, and the Eshkolot Project programming director. For the last several years, he has been living in two cities, Moscow and St. Petersburg. The national capital is great, big, and wide, and it could be very uninviting to not only newcomers, but local residents as well. Little oases, like coffee shops, bookstores, and hostels, however, save the day. Watch our new episode of Newcomers, and you will know everything about merits and shortcomings of Moscow, its rhythms of life, and oases of comfort, as well as about St. Peteites becoming Muscovites.
…and many other anthropological anthems in the Video Blog section.

Do Jews Play Soccer? Ten Facts about the Jewish Soccer
If there is no Jewish team in Euro 2012, it does not mean that Jews do not play the game. They do, very much so. Did you know for instance, that David Beckham is something of a Jew himself? He said that he was a quarter Jewish, for his maternal grandfather was a Jew. He feels more connected to Judaism than to any other world religion. When he was young, he wore the traditional Jewish kippah, and attended traditional Jewish weddings with his grandfather.
The Most Resortful City. Children's Routes
Even in the resort state of Israel, there is the principal resort city of them all. This is the city where every day id a holiday, and all Israeli kids dream of going there, for there are attractions for them all day long. This city is, of course, Eilat. This is the place where the sun winters, the water is 22-24 degrees Centigrade all year round, and you could have your summer vacation there even in December.
…and many other summer somethings at Booknik Jr., also known as Family Booknik, our own web site for kids and their parents.

Don't believe everything you read. Especially The Mirror. Booknik and Family Booknik are supported by the AVI CHAI Foundation.