In the past weeks, Booknik reviewed new non-fiction releases, discussed religion and freedom with an American professor, learned the whole truth about the Wandering Jew, took part in a séance, and fought xenophobia. Meanwhile, Booknik Jr. found out that mosquitoes and pasta interfere with his life.
Terribly Brave, Extremely Beautiful, Obscenely Brief
New American Haggadah, by Jonathan Safran Foer
The idea to create this new-generation Haggadah is straight A. Nevertheless, the production, bar the beautiful packaging, is not quite up to the mark. There is preciously little new interpretation there, and the general impression is that of a lesser intensity and density of thought. If you buy Foer's Haddadah, you get ten to fifteen pages of unique annotation that oftentimes do not "see each other," and use different phrasing and wording to express the same idea. The rest, however, is the traditional Pesach text in Hebrew and English.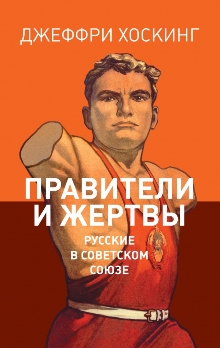 New Non-Fiction Titles about Jews and Their Neighbors. Gender in Talmud, Historical Politics in Eastern Europe, Haidamakas, and Yidokhazars
Booknik's literary reviewer
David Gart
writes about this spring releases of new non-fiction titles on Jewish studies, and around them. He talks about historians who create their "convenient pasts," or uproot national myths; He also discusses executions that turn law-obedient citizens into revolutionaries, the good the "thirteenth tribe" did for Russian nationalists, and the scientific research as the way to "mend the world."
…and many other real realities in the Books & Reviews section.

Moshe Halbertal, the Philosopher and the Citizen
Moshe Halbertal is the Israeli philosopher and author, the professor of the Hebrew University in Jerusalem, visiting professor at Harvard Law School, University of Pennsylvania, and New York University. He is also one of the co-creators of the IDF's code of ethics. Recently he visited Moscow to present his lectures for the "Eshkolot" Project. Booknik's reporter Sofya Kopelyan talked with him about philosophy, religious tradition, civic stand, and the goals of university education.
…and many other lofty logistics in the Articles & Interviews section.

The Wandering Jew: "My Road Knows No End"
As they say, the Wandering Jew was punished for refusing God. Ever since that time, as some not very reliable witnesses claim, he has been, well, wandering. Some people saw him in disputes with leading Oxford professors, others noticed him in seedy establishments of Prague, and there are some who prove that he had never left Jerusalem. He has been known as Ahasver, Isaac, Laquedem, and, possibly, Mikhail Samuelevich Panikovsky. Booknik's contributor Nekod Singer has now put together a detailed dossier on him, and his partner Gali-Dana Singer created a photo file of his ever-changing visages.
…and many other eternal thorns in the Events & Reports section.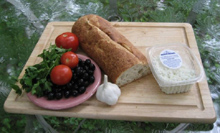 The Peculiarities of Male Cuisine: Masons' Sandwich
Booknik's culinary reporter
Alla Kucherenko
has overcome her gender stereotypes, and takes it upon herself not only to cook the "male" sandwich according to Meir Shalev's recipe, but also to eat it. All by herself.
…and many other preposterous preparations in the Columns & Columns section.

Etgar Keret's Miracles
The characters in Etgar Keret's story arrange a séance, and talk to the spirit of their dead friend for they believe he could solve some pretty serious issues for them. Despite the skepticism on the part of one of them, the séance goes as planned, the saucer moved all by itself, however when they tried to discern what it said, the letters spelled gibberish. Booknik's contributor Anne Swartz tried to make it out, too, following Prophet Daniel's steps.
…and many other precocious concoctions in the Stories & Essays section.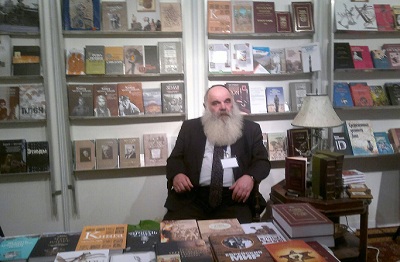 Newcomers 1: Mikhail Greenberg
Moving all over the world has recently become an easy feat. More and more people reside in different cities by turns, even changing countries. When we leave for another destination, we do not often think of moving there permanently. The time has already passed when people headed for the unknown, packing their suitcases, and taking their pillows, dinner plates, and cases of books. Yet, even now, when we move, we have to adjust to a new space and place, learn its written laws and unwritten rules, and become its citizen, no matter, for good or for the time being. Booknik is somewhat of an expert on migration and absorption, for this theme is central for the entire Jewish history. This is why he decided to ask some nice people what circumstances had brought them to Moscow at one time or another, or took them away from it, how a newcomer manages here, how a new city changes a person, and how a person makes his or her dwelling habitable. We know
Mikhail Greenberg
as the Jewish community builder, a prominent figure in Jewish education and book publishing, and the head of the
Gesharim | Bridges of Culture
Publishers. He will be our first newcomer, and he will tell about his personal Moscow.
…and many other telling tales in the Video Blog section.

My Kid Hits Everyone
Booknik Jr. has decided to discuss a touchy topic. What one has to do if his or her child is a bully, a provocateur, and a recidivist hoodlum? What shall one do if all preschool teachers complain that they cannot do a thing about this child, and other mothers evacuate their kids from the playing ground at the first sight of this child? In order to understand better what are attitudes to this problem in different countries, what contemporary children psychology has to suggest, and how to avoid those bully problems, Booknik Jr. organized a roundtable discussion under the aegis of the Start Up festival.
Milk with Skin
Before June 1, the International Children's Day, in the soviet-speak called "The Children's Protection Day," Booknik Jr. decided to learn from those very children what exactly they should be protected from. Turns out, if you ask them exactly this, they are lost. Indeed, it is peaceful outside on the street, they have enough good food, nice and even beautiful clothes, toys, education and recreation. All is well. So we had to rephrase the question: What frightens and frustrates them, what makes them angry or sad? What could make their lives less miserable in general? Tasya, aged 4: "Children should be protected from crocodiles, Grandfather Haloo, a dragon, a wolf, a bear, a fox, from sharks, and that horrible Dime from my kindergarten." Misha, aged 4: "I want to be protected from a strong wind, a weak wind, from cars, dust, rain, and an injection." Masha, aged 5: "I should be protected from my big brother, and Ilyusha from the Rainbow group in the kindergarten. And my life is worse because of mosquitoes, and pasta."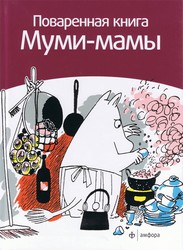 Grown-Ups as Kids
Muumi Mamman Keittokirja
, by Sami Malila
The Finnish author Sami Malila loves Moomins and their friends from Tove Jansson's books. Therefore, he has gathered all recipes that brought joy to the Moominvalley denizens into
Moominmamma's Cookbook
. Now we have recipes for all occasions! You could pick up a menu for a pretty usual day, including breakfast, lunch, and dinner. For breakfast, you could have some rice porridge, although a decent Moomin thinks it is a waste of time to eat porridge, and for lunch, a baked pudding for a hungry Moomin that consists of potatoes, tuna, and cheese.
…and many other remarkable recipes at Booknik Jr., also known as Family Booknik, our own web site for kids and their parents.

We don't have horses, we have a Chevy. Booknik and Family Booknik are supported by the AVI CHAI Foundation.